EXCEPTIONNEL « OMAR SALUM » EN STAGE A LA BA
Les stages de la BA Academy sont conçus pour des étudiants de tous les niveaux, ce qui vous permet de développer un nouveau jeu de combat de la ceinture blanche à la ceinture noire. Toutes les différentes académies, judo,Krav Maga, ju-jitsu traditionnel, sambo, grappling, luta livre, et autres sont invitées à se joindre au stage.
Né à Manaus, au Brésil, Omar Salum est un ancien champion de jiu jitsu mondiale 2x et l'homme qui a tenu d'abord le record de titres consécutifs de monde dans la division de poids coq, un record qu'il a gardé depuis plus de 10 ans. Un étudiant de la légendaire Royler Gracie au camp Gracie Humaita, Omar Salum a commencé à l'Associação Monteiro, bien que depuis lors, il a formé sa propre équipe, la Cia Athletica qui va de son état natal de l'Amazonas.
4x World Champion (1997 purple belt, 1998 brown belt, 1999 and 2000 black belt);
International Master and Senior (2005, 2006, 2007, 2008, 2009);
2x Pan American Champion (1997 purple belt, 1999 brown belt);
Brazilian National Champion (1996 purple belt);
World Cup Champion (2009 – CBJJE)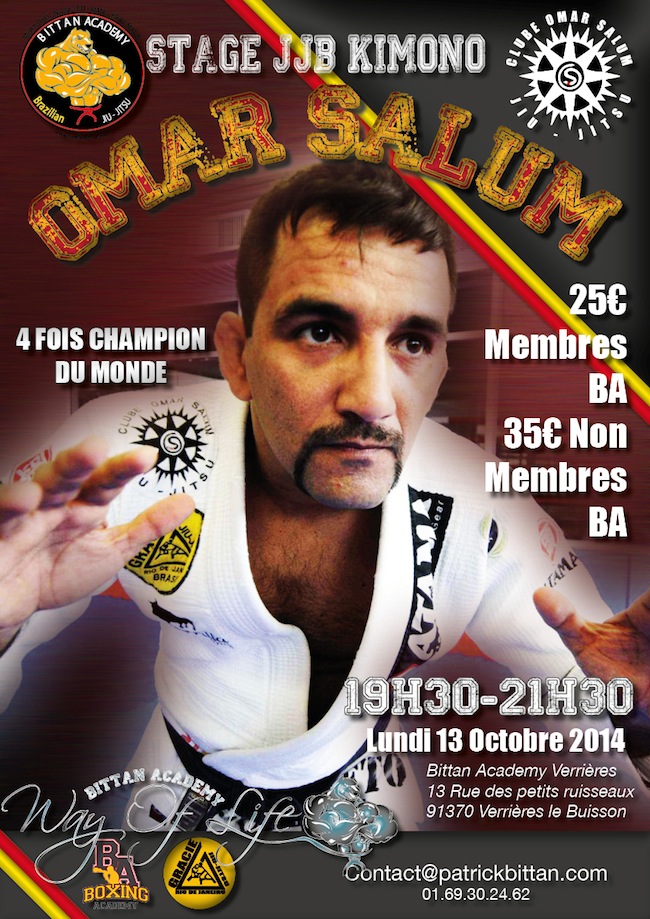 Intéressez pour accueillir un séminaire de la BA Academy Jiu-Jitsu dans votre académie?
Si vous possédez une école traditionnelle d'arts martiaux, et que vous souhaitez organiser un stage BA, nous serions ravis de vous aider à y parvenir. Il existe plusieurs types de séminaires offert par la BA Academy.
Nous serons heureux de travailler avec vous, afin de trouver la meilleure option pour votre école.
Contact@patrickbittan.com
Tel: +33(0)1.69.30.24.62